Jorge Cortez

THE CHANGING OF THE GARDENER…
We've contracted with several landscaping companies over the years…they start out strong and…attention to detail fades and the responsiveness drops. Jorge and his crew… After more than a year…still consistently attends to the details that are important to us… Jorge is responsive…professional and we have been very happy.
–Shea Lovan, Santa Barbara
There are two reasons most customers contact us—one, to bring a better drive-up appeal to their home or to replace their current gardener. We take these two reasons to heart. We understand how important the landscape impression is to you and, despite the great landscaping services available in Santa Barbara County, many take you for granted and the service fades. This became out mantra—to never let you become disappointed in our service or to make you regret hiring SB Evolution Landscape. We are experts on drive-up appeal, water conservation landscaping, seasonal and climate planning, irrigation, and much more.
On behalf of my company, thank you for visiting our website and please take advantage of the no obligation phone call or estimate to ensure that you consider our promise to make this the last time you need to find a gardener for maintenance or a landscaper to give more life to the home you love. Thank you.
– Jorge Cortez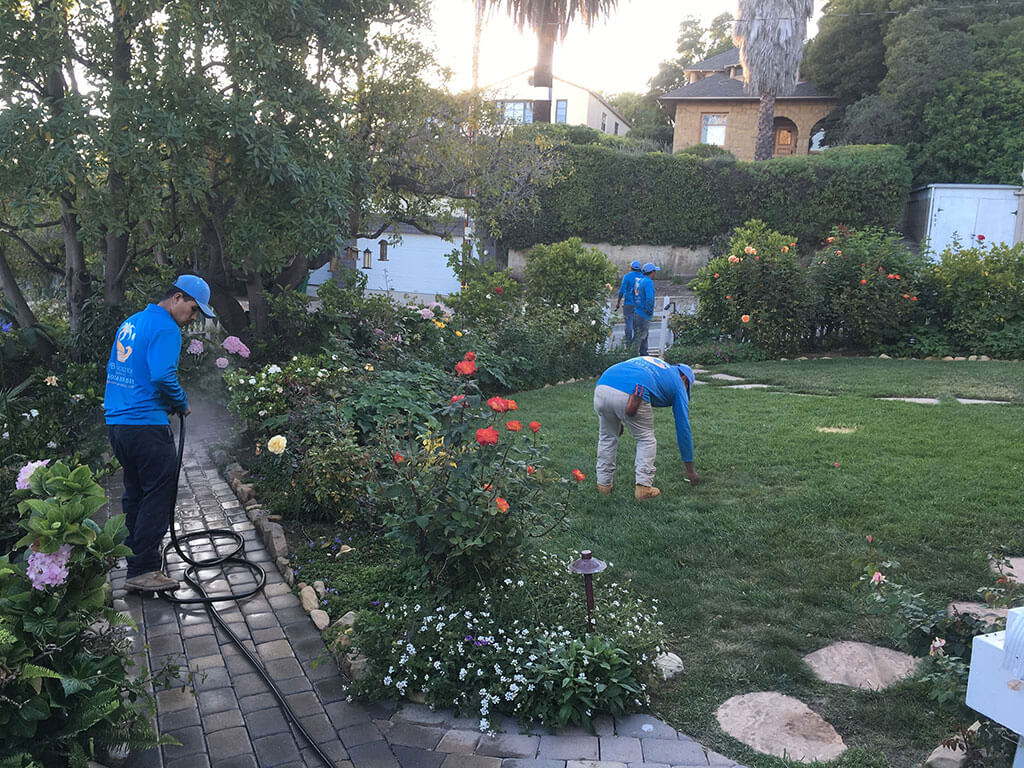 We pride ourselves in giving you the peace of mind that we will always answer your phone calls, emails, and text messages. We will return and fix any issues, consistently maintain your landscape on a permanent schedule, pay for any damages caused by us, respond to emergencies, responsible crew members, and create the landscape of your dreams.
"We guarantee your money back if we do not improve your home garden in 2 months. We will take before and after pictures to prove it. We listen to you and get the job done."
Join our weekly or biweekly maintenance program for a lifetime of customer care and benefits. It's time for you to relax and let us improve your home garden. Join our dream team now!
Benefits
Research has indicated that a connection to nature can relieve stress and discomfort, leading to a much happier and positive outlook on life. This is why billions of dollars are spent each year on landscaping at hospitals in well-designed gardens intended … to help improve the health of their patients.*
Why spend your weekends mowing the lawn, pulling weeds, and trimming the shrubs?
Enjoy your beautiful landscape after a long stressful day. Feel relaxed and energized without the hard labor of beautifying it, so you can truly focus on the most important things in your life. Spending more time with family and friends will bring clarity and your ultimate goal of happiness every day. Don't wait any longer to do more of what makes you happy.
There is no obligation, so you are free to sign on and sign off at anytime. The truth is I want to do what is best for your landscape and contribute to my community here in Santa Barbara.
Call me at (805) 453-9551 and let's meet to make your vision a reality!
Thank You
*Ulrich, Roger S. (2000). "Evidence-Based Garden Design for Improving Health Outcomes." Therapeutic Gardens Conference, University of Minnesota, November.
"FREE landscape assessment at your convenience when you fill out the form below. I will personally come to your property, meet with you, and give you my best advice. Thank you and I look forward meeting with you."
– Jorge Cortez SB Evolution Landscape Owner
The "Drive-Up Appeal" Experts