Landscape design – Santa Barbara
The Benefits of Professional Landscape Design
When it comes to creating a landscape, homeowners generally fall into two categories:  those who itch to start putting plants into the ground themselves and those who recognize a need to hire out the work.  Just as it wouldn't be wise to build your own house from scratch (unless you're a licensed architect or professional builder, of course), so too should property owners consider hiring a professional designer when it's time to rethink the front and back yards.
Base plan and plants' mature sizes
Outside of a basic rectangle, measuring your property and developing a scaled base plan can be tricky.  Yet, this step is crucial to ensuring that the garden design and its plants will fit the space allotted.  A company like SB Evolution that offers landscape design under its services has the equipment and resources needed to create an accurate representation of the lay of the land.  Our professionals also know what to look for:  Where is the hose bibb?  How do people move through the space?  Where are the low spots where water collects?
Next, the landscape design takes into account the anticipated mature sizes of plants.  A novice gardener might stuff his or her beds with small plants newly purchased from the local garden center to obtain a full look right away, only to find down the road they have an overgrown mess or plants that are unable to thrive in their competition for nutrients.  The landscape designers at SB Evolution will be able to prepare a planting plan that creates beauty from the start while providing ample room for each plant as they grow to their eventual sizes.
Plant culture in landscape design
Our landscape designers are also intimately familiar with the preferences of Santa Barbara-friendly plants.  Further, we are expert at identifying the conditions and microclimates of outdoor spaces of any size.  A plan for your front or backyard landscape design will include a thorough analysis of these challenging environments and will respond with a plant palette that is appropriate.
If direct afternoon sun or too much moisture next to the rain gutter makes you nervous about the potential for a great garden landscape design, not to worry.  In Southern California, there is a plant—or rather, plants (plural)—for every condition.  Our landscape design team can help select the right plants for the right place.
Texture and color for impact
Ever been perplexed as to why a plant that looked so great in a catalog or at the nursery failed to shine in your garden?  One of the most important design principles is creating contrast.  This concept is especially important in landscape design, where professionals consider each plant's attributes and place them with other plants that help offset those characteristics.  A plant with bold, shiny leaves looks best next to soft ferns or those with fuzzy foliage.  Likewise, colors work best when paired with those opposite their position on the color wheel:  reds with greens, purple and yellow, cool colors with those that are warm.
A landscape design should also identify where focal points would work best in the garden.  The designer will evaluate "sight lines" from windows or where people sit when they're outside, and aim to place plants with exceptional interest against a muted backdrop—often a blank wall of a building or lower massed plants—to give those plants the best chance of standing out.  And there is the possibility of too much of a good thing in garden design.  The plan should likewise include "white space" or empty bed area, turfgrass, or backdrop plantings to give the eye places to rest between taking in the sights of each focal area.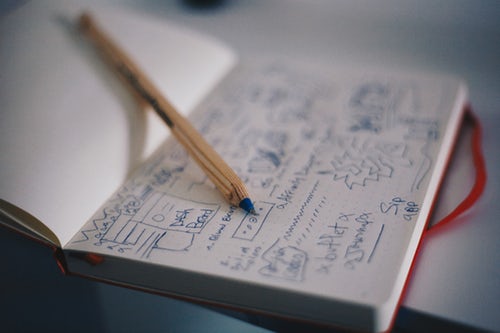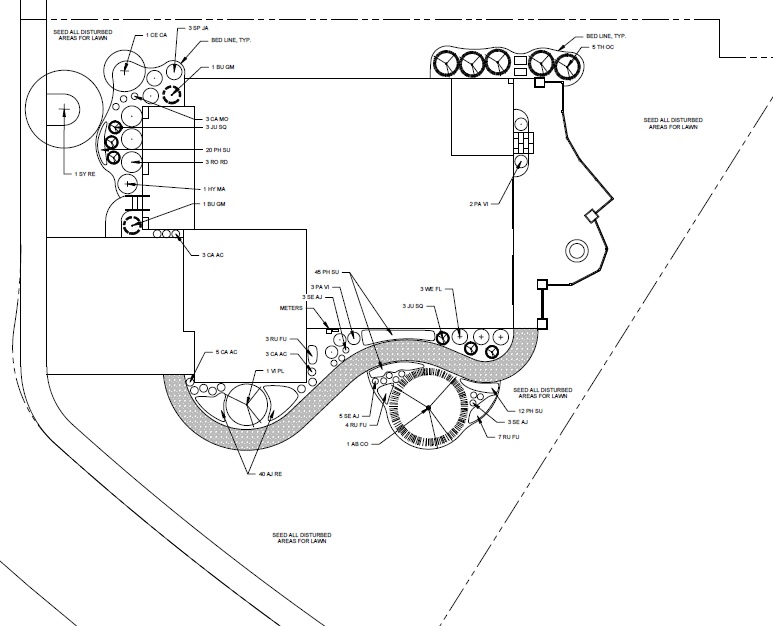 Landscape design for sustainability
Landscapes of even just a decade ago are rather different from what we see today.  Modern day trends lean toward landscape designs that take into account the environmental impact of each plant and even the entire property itself.  Today we favor plants that require less moisture and little fertilization in order to conserve water resources and lessen the load of pollutants in our waterways.  SB Evolution's professionals look for opportunities to work with natives over their fussier counterparts whenever possible and keep current on which plants are considered invasive to ensure that they are left off of landscape design plans.
Designs also have great regard for the bigger picture.  Our climates and microclimates in Southern California can vary significantly.  For a dry site, a desert landscape can bring beauty and an aesthetic that ties the property to its surroundings.  More tropical settings may lend themselves to larger flowering plants and lush landscape textures.
Your landscape design vision…realized
You may have a good idea of what you want.  But are you sure you know how to execute it?  This is where the help of a landscape design professional comes in.  While our landscape designers can help create a look—and maybe that's what you want to hire for—they are also expert at listening and seeing your vision with you.  They also have the technical abilities make it a reality:
The ability to turn a property into an accurate base plan that will serve as the basis for design concepts and a final layout that will save a lot of complications and project delays down the road.
Their familiarity with architectural styles and ecology will steer you in the right direction in determining what kind of landscape design is best for your property.
Our designers' extensive knowledge of plants and their culture and maintenance needs will ensure a thriving and healthy landscape for years to come.
Proper planting techniques are crucial to the success of the landscape, as well. SB Evolution's crews will ensure your gardens will be installed correctly the first time.
One more reason:  We talk landscaping all the time, and we love to do it.  This is why SB Evolution can become your trusted partner in realizing your dreams for your home's exterior design.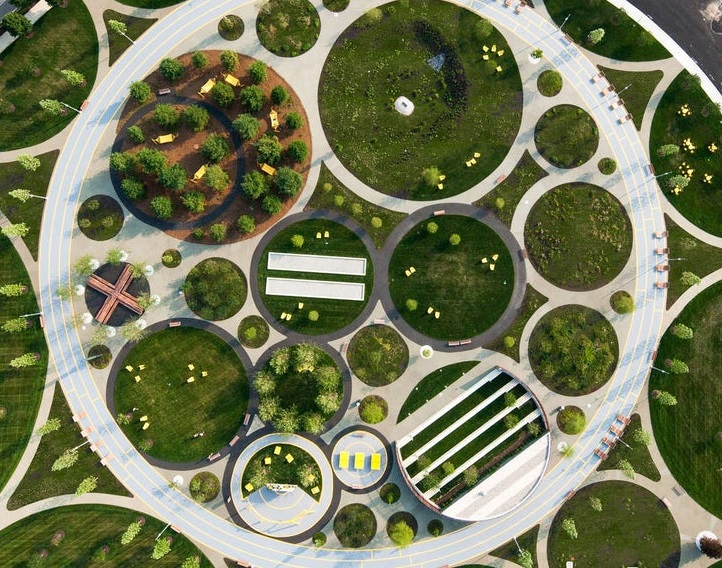 I have used SB evolution landscape for 2 years, since purchase of my first home. I am very pleased with their service, from routine maintenance to clearing an entire hillside and planting a series of hydrangeas in a shady spot for me, as they are my favorite flower. They are very responsive to emails and phone calls and have given me a bouquet of flowers on completion of both bigger projects. Plus, my roses, orange trees, bamboo, callalillies, begonia and all other plants are so much healthier than when I purchased this property. Thank you Evolution!
They came out with their team and did a thorough investigation of what my yards needed. Jorge and his team are knowledgeable, work rapidly and the work is guaranteed.The office staff is quite helpful and can answer questions you may have. Beverly Silver
I was very impressed with the prompt, professional service from this company. Jorge showed up to go over the tree trimming project, made helpful suggestions and answered all my questions. The team that arrived to do the project was friendly, efficient and cleaned up all the debris spotlessly. I am very pleased with the customer service and high quality of the work of this company. Thank you, SB Evolution Landscape!
Get Your
FREE

Complimentary Quote?