Plant Spotlight:  Bougainvillea
"More color" is the resounding cry of
homeowners looking to improve their landscape.
But how to add color when the region is suffering a drought and under watering restrictions?"
Oftentimes the choices seem limited.  While succulents and other drought-tolerant material can add texture and interest to the landscape, their presence in the landscape may seem muted and uninspired.  Enter Bougainvillea glabra. Versatile, drought tolerant, and, above all, beautiful, this plant is an ideal choice for your
Santa Barbara landscape.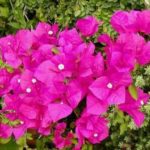 Its many forms make it usable in almost every landscape.  From vines and ground covers to its shrub and tree varieties, there is a way to incorporate the gorgeous, nearly year-round blooms of bougainvillea into almost any site.  The plant likewise offers a wide spectrum of colors—whites, purples, oranges, and reds to name a few—that can suit almost every gardener's taste or complement any design scheme.
Best of all, they're easy to grow.  Following an initial establishment period during which they'll need deep watering, bougs are uniquely drought tolerant—sun lovers that are well suited to Santa Barbara's dry climate.
Contact us for Free Estimate.
SB Evolution Landscape
27 West Anapamu St. #230
Santa Barbara, CA 93101
Call us@ +1(805)-453-9551
Email us@ info@www.sbevolutionlandscape.com
Visit us@ http://www.www.sbevolutionlandscape.com