Mulching Your Landscape – Resources in Santa Barbara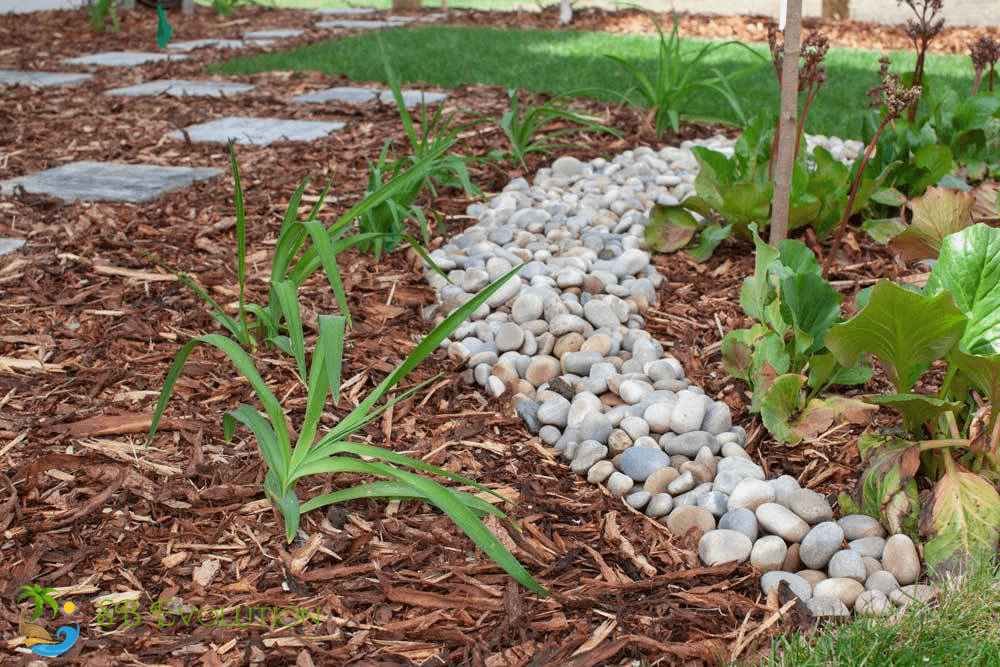 Where to get mulch for free in Santa Barbara and how to use it in the landscape
Mulch is an important part of every landscape installation.  Whether it's in the form of aggregates, recycled materials, pine needles, or traditional shredded bark, mulch serves a crucial role in mitigating the evaporation of moisture from the soil and reducing the growth of weeds.  The benefits of mulch, especially in the Santa Barbara region, are plentiful, particularly as they pertain to sustainable and environmentally sensitive design.  The choice to use and replenish mulch each season is aesthetically rewarding as well, creating a clean and consistent backdrop that allows our plants' attributes to really shine.
Why mulch?
Mulching is an easy way to combat some of the biggest concerns that homeowners in Santa Barbara face.   Annual dry seasons and droughts with watering restrictions mean that plants' roots may not get the hydration they need from the soil.  A good layer of mulch applied over the garden beds will protect these roots and slow the evaporation of moisture.  Its ability to control weeds by blocking seed-to-soil contact, too, is important for preserving nutrients that desired plants need to thrive.   And many kinds of mulch—shredded wood bark especially—break down over time, replenishing the soil with valuable nutrients as they do so.
Mulch is environmentally responsible.  Typically a byproduct of other products, it is a great way to incorporate recycled materials back into a garden design.  Even shredded hardwood comes from other plants—ones which likely have been removed once past their useful life—only to live again as a contributor to the health and vitality of the greater landscape.
Types of mulch
The mulch material chosen for a garden is as much a part of the design as the plants.  The veritable canvas upon which plants' leaves and blooms are displayed can serve as complement and a representation of the style of landscape.
Shredded wood bark or chips: The breakdown of organic mulches helps contribute valuable nutrients to the soil.  Its ability to be spread easily for excellent soil coverage makes it a top choice in retaining much needed moisture all summer long.  The traditional yet natural appearance of shredded bark allows the ground plane to fade to the background, thus bringing garden plants to the forefront visually.  Further, this mulch type is available in a full range of colors, from black and dark brown to red and beige, allowing selection of an apt complement to a bed's focal point plants.  Its adaptiveness to a variety of microclimates allow wood bark mulches to be used freely in the landscape.
Pine needles: Pine needles lend the look of a forest-floor, making this mulch type especially appropriate for shady gardens, though it is important to use it where an increased soil acidity is amenable to the garden's plant selections.  Affordable and abundant, pine needles can be flammable, however, thus their use also depends on local defensible space guidelines to determine whether this is a safe choice of material.
Stone and decorative aggregates: "Rock beds" and pebbles are gaining popularity because of their ease in maintenance.  The obvious reason—not having to replenish every year—makes stone an economical choice for the long term.  Stone is fire-resistant and available in an array of materials, colors and sizes.  Pebbles, river rock, crushed "volcano chips," offer numerous selections for developing a special look in the garden.  Rustic and western landscapes, in particular, are well enhanced with aggregate materials.  However, a careful eye over the health of the gardens' plants must be employed as they do not contribute nutrients to the soil like their decomposing counterparts can.  Further, stone materials can transfer heat to the soil and damage plants' roots below, thus their use should be limited primarily in the shade or sparingly in minimalistic designs and with plants that are drought tolerant.
Other recycled materials: Thought of as the ultimate in "environmentally responsible" options, repurposed materials such as rounded glass pieces, shredded tires, or other vulcanized rubber products give new life to manmade materials whose usefulness has otherwise expired.  But like stone, these materials do not break down and contribute nutrients, often trap heat in the soil, and in some cases can leech undesired chemicals into the soil.  The benefits and liabilities of these materials must be weighed carefully before use, with consideration as to whether an organic material such as chipped bark would better serve the health of the landscape.
Free (and almost-free) mulch in Santa Barbara
It may be surprising even to residents of the Santa Barbara region that mulch is available for free—or at a low cost for larger hauls.  For anyone wondering where to get mulch for free, the county of Santa Barbara offers a mulching service designed to help homeowners retain moisture and control weeds with mulch in their landscapes.  Residents may acquire shredded wood bark mulch in three ways:
Free pick-up: Walk-in service at mulch piles in Santa Barbara and Santa Ynez is available to anyone with a pitchfork, tarp, and an open-bed truck.  Directions to the piles are listed on the county's website at lessismore.org.  This is a simple way to obtain free wood bark mulch.
Loading: Larger trucks that qualify (not pickups or trailers) may purchase mulch at the Santa Barbara and Santa Ynez piles for just $15 per load, or up to 6,000 pounds (or $5.00 per ton).  Details are available at the county's lessismore.org website.
Delivery: With a purchase order form, a phone call, and a few quick calculations, residents can order mulch for delivery.  At just one or two weeks' wait time, this might be the easiest option for homeowners.

Even better: Santa Barbara Water customers can have up to two deliveries of eight to ten yards of unscreened mulch brought to their property via dump truck every twelve months.  The city truly believes in mulch's ability to retain water moisture in the landscape.
In Goleta Water District: A rebate program on mulch deliveries is available to water customers here.  Visit the county site at lessismore.org to learn more about this program.
What to do with all that mulch
Homeowners may wish to spread mulch themselves, but this can be an arduous and time-consuming process.  Further, there are several important rules to follow when re-mulching or applying mulch for the first time to landscape beds:
Depth: Mulch should be spread between two and four inches deep across the surface of the soil.  Measure and adjust while spreading.  Too much mulch can stifle root and prevent rain water from percolating through while too little can easily be pushed aside, exposing soil to heat and weed seeds.
Root flares: One precipitous mistake made by homeowners and even some landscapers is to pile mulch high against the root flares (top of the root ball) of trees and shrubs.  Not only can this trap moisture, causing mold and leading to rot under the bark of the plant, it stifles roots, often forcing them to girdle at the base of the trunk.  Instead, leave a "saucer" at the top where the trunk meets the top of the soil.
Neatness and aesthetics: Mulch must be contained within beds to avoid staining adjacent hardscape surfaces and creating tripping hazards where people may walk. Too, the mulch can get messy—and look it—if spread with reckless abandon or the wrong tools.  A professional landscaper has the knowledge and equipment needed to reestablish bed lines, providing a proper "V-channel" along edges to convey excess runoff and provide a clean lined distinction between planting area and grass.
Maintenance and upkeep: Shredded hardwood decomposes roughly at a rate of one inch of depth per year.  Therefore, landscape and planting beds should be replenished with a new topping of mulch each spring to ensure moisture retention through the summer months.  This important maintenance job has the added benefit of providing a fresh look to the garden as plants bloom throughout the seasons.
Who is best to help with a mulching job?
For water customers in Santa Barbara searching for free mulching service, the most cost effective and efficient option is to combine the benefits of Santa Barbara's free mulch program with the professional services of a local landscaper.  A local landscaper can help in several ways:
Coordinating delivery: Santa Barbara landscape professionals are knowledgeable about the free mulching program and can help calculate the amount of mulch needed, provide numbers to call for ordering, and determine the best place to place a load of mulch upon delivery.
Knowledgeable installation: The guidelines for spreading mulch are important.  A professional knows the depth needed—fine-tuned for particular landscape types—and how to avoid injury to trees and shrubs.  Bed lines are neat and mulch stays tidy within the planting areas.
Reminders: Mulch should be refreshed annually with enough additional material to compensate for decomposition throughout the year, thus maintaining the desired coverage depth over the planting bed in order to retain moisture and keep weed seeds off the soil.  Establishing a relationship with a local landscaper ensures timely reminders to re-mulch landscape beds, while taking advantage of annual free mulch and delivery services from Santa Barbara County.
The aesthetic and environmental benefits of mulching landscape beds work nicely in tandem.  Likewise, the availability of free mulch in Santa Barbara combined with the expertise of SB Evolution's landscape installers makes mulching and refreshing one's landscape beds a no-miss opportunity.