Gardening is a hobby that has the added
benefit
of relieving stress.
It gives people a chance to slow down, tune out their busy minds, and enjoy nature. Research has shown that spending time in nature can help restore your attention, relax your body, and revive your mood. For this reason and many others, gardening is an excellent way for you to relax and unwind.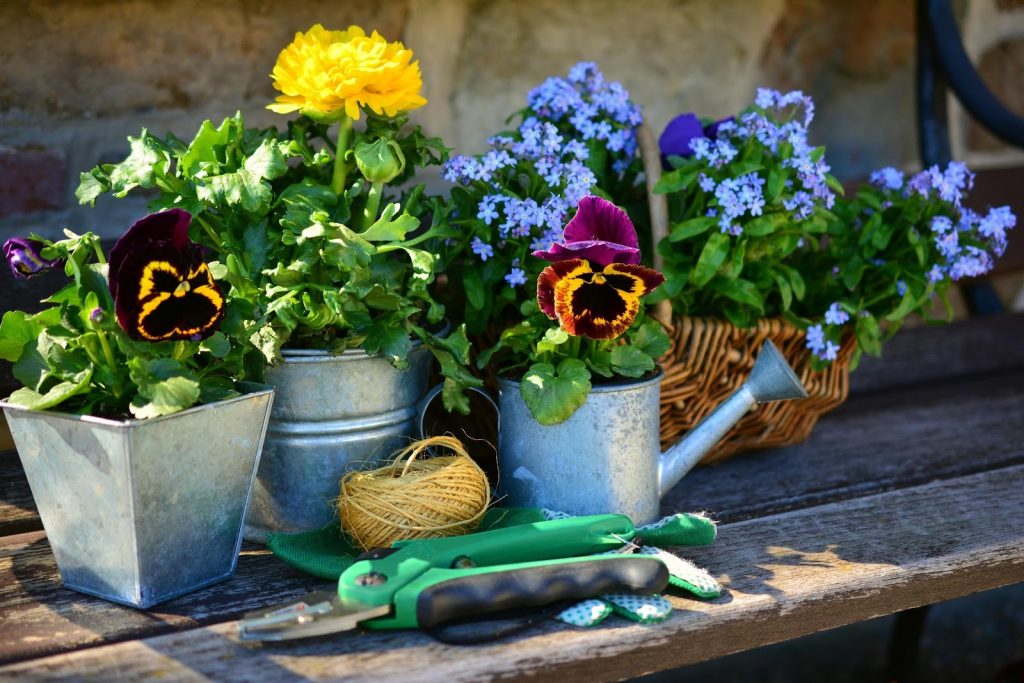 Make it Your Own
Although gardening isn't for everyone, many people enjoy growing a home garden in their yard. To get the most out of your home garden, make it a hobby, not a chore. While some people prefer to grow flowers, others enjoy vegetables and fruit. If you want to find stress relief from gardening, it's important to plant something you'll enjoy tending to. You should also consider the size of the garden and maintenance requirements for what you plant. Planting 20 rows of vegetables when you really wanted a few tomato plants will end up causing stress instead of reducing it.
Tapping into your creativity has been shown to reduce stress, so allow your home garden to let your creative side shine. While some people prefer a garden with pristine lines and symmetry, others prefer a more wild and natural look. There's no wrong way to go about this; it just depends on what you find soothing. You can also add a personal touch through water features, artwork, wind chimes, a bench, and more.
Practice Mindfulness in Your Garden
To make the most of gardening's stress-fighting powers, be mindful of the moment, which is proven to reduce stress. When tending to your home garden, leave your phone inside or out of reach so you're not tempted to let phone calls, texts, email, or social media intrude on time spent in the garden. Just like you wouldn't stop a session of yoga to check your email, you shouldn't allow your focus to drift from the task at hand. That's part of the beauty of gardening; your days are filled with multitasking, so it's nice to immerse yourself in the experience of gardening and let everything else slip your mind.
A garden can appeal to all five senses. The rustling of the leaves, the buzzing of the bees, and trickling of the water feature play to your ears, while the many different colors of plants and vegetables draw in your eyes. Flowers, herbs, fruits, and vegetables provide unique smells for your nose to enjoy and delectable tastes for your mouth to savor. From the soft leaves of a lamb's ear plant to the prickly spines of a cactus, a garden can cover a wide range of textures. Practicing mindfulness means you become fully absorbed in all of these enjoyments and appreciate each experience.
While you're weeding, digging, raking, and performing other gardening activities, you can get into a rhythm, which creates a cadence. Pair this repetitive movement with a repeated mantra or a yoga breathing exercise.
Friends in the Garden
Although many people enjoy the peace and quiet gardening offers, some people thrive on being around others. If you're in the latter group, gardening can help you connect with neighbors and friends. This social connection can help reduce stress. Invite neighbors over to sit and enjoy your garden with you. Garden parties are enjoyable, so consider hosting one for your neighbors and friends. You can also start a community garden.
Don't forget about connecting with wildlife too. Certain plants and flowers are known for attracting specific birds, insects, and other wildlife to home gardens. "Their presence adds another dimension to help captivate your attention and enrich your experience," says Psychology Today.
Gardening offers many great benefits, many of which can reduce your stress. At the end of the day, you can feel a sense of accomplishment and satisfaction when the flowers start to blossom or the carrots start to sprout from the ground. A garden can add beauty to your yard and put food on your table, all while keeping you happy and healthy.
Source
Author:Clara Beaufort Gardenergigs.com | clara@gardenergigs.com