Fall is Here, Is Your Home Ready?
The warm array of autumn colors blanketing the landscape are a sure sign that it's time to prep your home for the long winter. Get your home, lawn, and garden ready for cold weather with these tips.
Home
Start in the garage. Organize the tools for fall and winter home and garden maintenance for easy access. If leaves have made their way into your garage, sweep or blow them out, and then use a "shop vac" to suck up any leftover dirt and debris. This is an important step, because along with grime, leaves have a way of bringing pests in with them.
Clean the gutters and downspouts—or hire this out if heights aren't your thing. Double check that drainage structures below are clear and that drain extensions have not wiggled loose over the summer.
Check the wood around your windows, doors, deck, and railings for rot. Repair and replace frames as necessary to reestablish a good seal.  Re-caulk and replace weather stripping around windows and doors to keep cold air out.
Fall is a great time to give your exterior a makeover by painting the shutters, soffit and fascia, mailbox, doors, and window boxes.  The fresh look will stand out nicely during the colder months and a professional job done well will last without fading, especially with less sun exposure during winter.
Have your chimney and fireplace inspected by a professional chimney sweep to ensure it's ready to safely keep your home warm and cozy.
Contact your local HVAC contractor to have your heating system inspected before the first frost.
Check your roof for missing shingles, leaks, and damage.
Check your driveway and walkway for cracks, repair any damage, and apply a high-quality sealant. This is especially important for asphalt driveways, as sealing will extend its useful life.
Clean your home thoroughly and rid yourself of anything you haven't used since last season. You'll be spending much more time indoors soon and will want to enjoy a tidy environment.
Lawn
Fertilize turf grass and sow cool season grasses in patchy areas. Doing this before the first freeze will allow time for germination. Ensure your lawn has adequate nutrients, as many grasses are able to store carbohydrates throughout the winter and can then grow back fuller and brighter come spring.
Rake leaves once a week; thick layers of wet leaves can compact and suffocate the lawn below.
Drain your irrigation system. If your system does not have drain valves, hire a professional irrigation company to clear water from the pipes. This will avoid busted sprinkler heads caused by the freeze thaw cycle.
Aerate and fertilize your lawn.
Remove water hoses from outdoor spigots. Again, the freeze thaw cycle throughout the winter can cause the spigots and their pipes to burst—and result in costly damage to the home—so take care of this before the first cold snap.
Fall is the time to prune and shape trees.  A local landscape professional can help identify branches and trees that need servicing before heavy ice settles on and creates dangerous breaks.
Garden
Divide or move perennials in early fall; mulch hearty varieties.
Plant cover crops to suppress weeds, reduce surface crusting, balance nitrogen levels, and mitigate diseases and pests.
Add slow-release fertilizer to plants to encourage a more abundant crop come spring.
Cover exposed beds with compost. Feed your garden through the winter with a thick layer of compost and mulch. This will keep soil microbes active in cold weather.
Leave a few plants with berries and seeds to attract birds. This will liven up your winter landscape.
Clean and dry all garden tools, and move them under cover to prevent rust.
Safety
Be safe when working in the home, lawn, or garden, regardless of season. Always have a second responsible adult available to hold the ladder and help with lifting heavy objects. Avoid working in the yard at night.  Ensure good ventilation with open windows and doors if you're working with strong cleaning solutions.
By taking the time to treat your home with care this fall, you'll ensure a more enjoyable winter and a more productive spring when warm weather arrives again.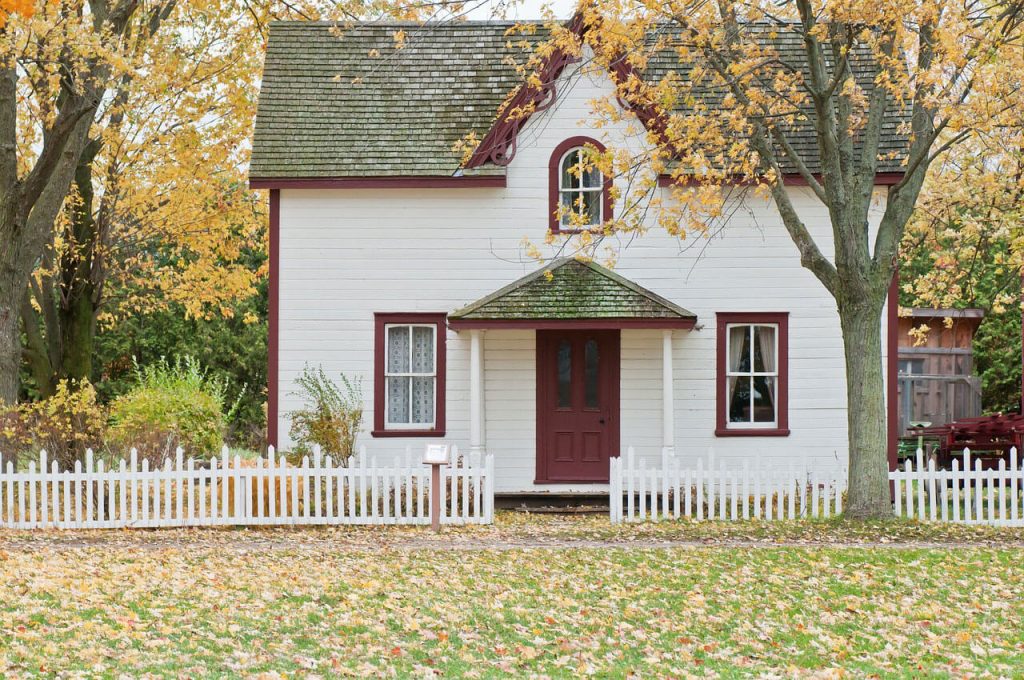 Image via Pixabay